Gatherings
A Relaxed, Natural Setting Serves an Idyllic Backdrop for Events in San Miguel de Allende
Colorful historic architecture, narrow cobblestone streets and walls of meandering bougainvillea give San Miguel de Allende its relaxed allure, while the welcoming hospitality and stunning venues keep visitors coming back to the area...


Colorful historic architecture, narrow cobblestone streets and walls of meandering bougainvillea give San Miguel de Allende its relaxed allure, while the welcoming hospitality and stunning venues keep visitors coming back to the area time and again. Located just fifteen minutes' drive from the city, Luna Escondida is a sprawling private ranch that stands out as a local highlight, complete with extensive gardens and groves, spacious villas and plenty of gathering spaces.

Event planning and design expert Jesse Tombs recently worked with the Luna Escondida team to create a four-day familiarization trip for a select group of industry folks to visit the property. Over the course of the retreat, guests enjoyed everything from horseback riding and yoga to exploring the town and attending beautiful, relaxed dinners throughout the property. Here, Jesse gives us the full scoop on this gorgeous venue and shares some of his favorite highlights of San Miguel.

Photography by Norman + Blake






Tell us about this trip!
I met the event manager of Luna Escondida, Saraí Flores Mendívil through my friend and floral designer Josefina (Pina) Hernandez. We had been talking for years about doing a retreat there when the property was finished. Every year I would reach out to Saraí as I was so excited to visit and see how the space turned out. The owners of the venue had been working on the venue for years – originally, it was several different properties and, over the years, they bought up the four properties and combined them into one large private estate compound. They also built a huge organic garden and ecosystem where they raise beautiful biodynamic fruits and vegetables, and they also have a beautiful stable with over twenty show-quality horses from around the world.
Saraí and her team wanted to host a mixed group of planners, floral designers, photographers and other industry insiders from the United States as each person in the group can connect to the property in a different way and see it in a different light. When planning a trip like this, I always try to gather a good mix of people from different places, with different types of professions and backgrounds... this also makes the group more interesting and fun! The reason for hosting was to showcase the venue, and also to showcase the amazing vendors we had on board. It was also to gather with likeminded creatives and to get to know each other and the beautiful area of San Miguel de Allende!






Why Luna Escondida? How was visiting/working at this venue? 
I had been wanting to work at Luna Escondida for years since I first heard about it however, the venue was not ready. The owners worked with Saraí Flores Mendívil, a local event planner and designer, to build the venue and make it ready for large scale events, wedding and corporate retreats. Working with Saraí and her team was amazing. The grounds are kept perfect 365 days a year with a team of gardeners and landscapers. There is also a full time, chef-led culinary team that prepared amazing breakfasts, lunches and dinners nightly. The venue also comes with a full time butler that attends to any guest staying on property. The property can accomodate about 25 people comfortably in four separate homes, each unique and different. We worked with Saraí and her team on every detail, from welcome gifts for each guest to the dinner menus and activities throughout the retreat. 






Tell us about your itinerary - what did the group do each day? 
We really wanted guests to have time to explore the property and also the town of San Miguel. I attend a lot of FAM trips, and there always seems to be too many scheduled activities, so it's nice to have some down time to go shopping, get a massage or just do nothing and experience the property as a guest. 
Day 1: Guest arrival and welcome dinner (the colorful dinner).
Day 2: Breakfast, followed by a yoga class, shopping in San Miguel and dinner at The Restaurant in San Miguel. People also got massages this day. 
Day 3: Breakfast, horseback riding, cooking classes and a farewell dinner at Luna Escondida (the black dinner). 
Day 4: Breakfast and guest departures.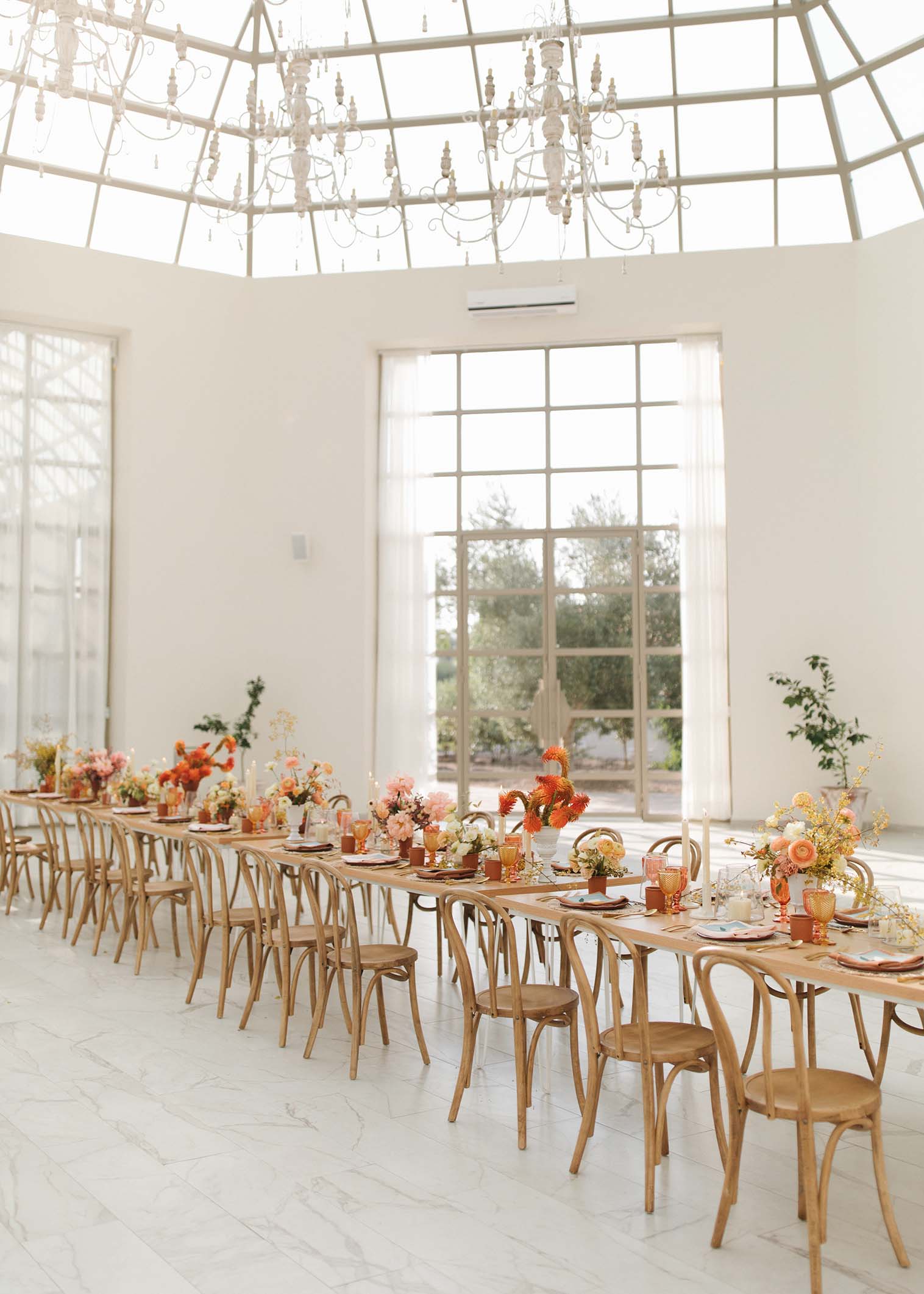 What was the design inspiration for each event and the overall trip? 
The welcome dinner was really inspired by the colors of San Miguel: the beautiful cobble stone streets lined with colorful terra cotta, yellow haciendas and blooming pink bougainvillea. We also were inspired by the horses at the property – you will notice we used a mini brash horse bit with leather for the place cards by Yonder Design. Pina, the floral designer, and I went into town the day before guests arrived and found an amazing Frida bust vase – that was also a big inspiration for the design. We also worked with Warehouse Rentals for all the table top, tables and chairs, which were perfect for the fresh look we wanted to create. We also bought the custom white plates for the welcome dinner at a local shop. 
The farewell dinner was inspired by the black hearts we found in town made of ceramic. We worked with Yonder Design to create place cards from bone that were laser engraved. We also had Yonder create these amazing hand-watercolored menus that were backed in a natural-fiber wallpaper. We wanted the tables to pop and be really different and fun. When planning a retreat like this (with no clients), it is always fun to take risks and do something you've always wanted to try. I think the risk paid off. One of my favorite aspects were the thousands of lilies we hand-strung and hung from the trees around the table. It was truly magical in person with the black taper candles glowing. 






What did the menu(s) look like? Any new favorite drinks or dishes? 
Welcome Dinner Menu
The welcome dinner featured the farm-to-table style dining that Luna Escondida's chef specializes in. It was really fresh and vegetable focused, with lots of color and interesting combinations!
Menu:
• Spring asparagus purée with seed crisps 
• Market beet salad 
• Farm vegetables with rice noodles 
• Local chicken with butternut squash
• Homemade carrot cake
 
Farewell Dinner Menu
The farewell dinner was traditional fine dining, with beautiful presentations and delicious technique. It was the most elegant and beautiful Mexican dinner I have ever experienced!
Menu:
• Molotitos 
• Tiacoyo y salsa de cilantro 
• Red pozolillo 
• Pipian 
• Flan de chocolate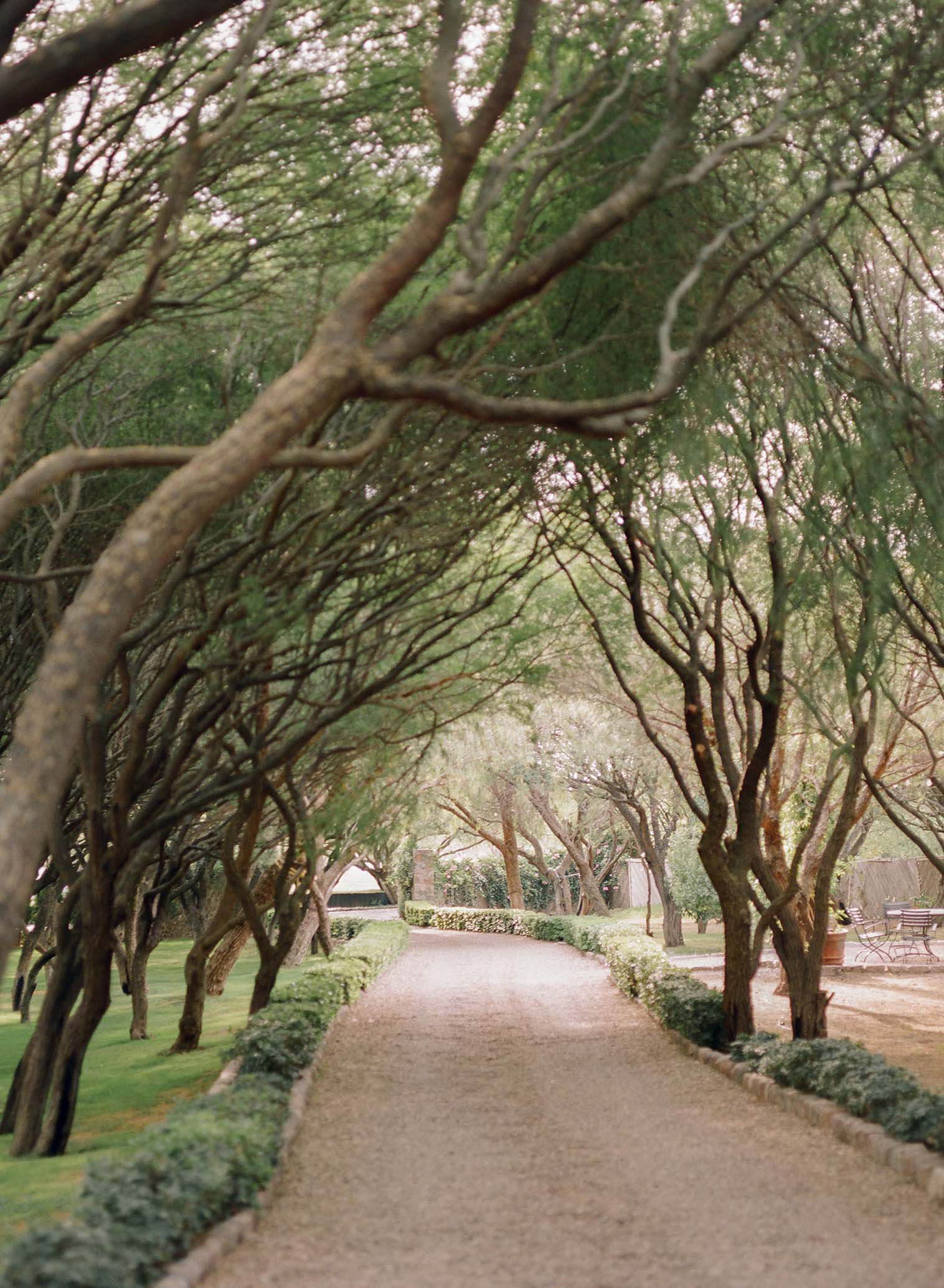 What was your favorite part of San Miguel de Allende? Any must-try restaurants or sights? 
I really love the people, they are so warm, welcoming and friendly. The architecture is also so beautiful. Below are some other favorites... 
Places to Eat 
• La Unica
• Chao Ban
• Aperi

Hotels 
• Belmond Casa de Sierra Nevada

Shopping 
• Mixta

Sites 
• The Main Square and Cathedral 






Learn more about hosting an event at Luna Escondida →


Credits
Venue/Host: Luna Escondida | Planner/Designer/Host: Jesse Tombs | Photography: Norman + Blake | Floral Designer: Josefina (Pina) Hernandez | Rentals/Furnishing: Warehouse Rentals by Marianna Idirin | Graphic Design/Event Branding: Yonder Design | Videography: Elysium Weddings | Guest Gifts: Amelia Market, Nomadic Thread Society