A Mother and Son Duo Open a Warm, Nostalgic Restaurant in Mexico City
by
Alyssa Brown


A mother and her son's shared love of markets, cooking and traveling led to the opening of Mexico City's Niddo (opened in November 2018). At this comfortable restaurant, guests enter through the kitchen into a space that's warm, nostalgic and moody with its 1940s color palette of reds and warm greys. Eduardo Plaschinski, and his mom Karen, serve what they refers to as, "food that makes you feel good – that you can eat every day," including breakfast dishes like banana pancakes with cocoa, orange compote, crème fraîche and toffee, or an afternoon plate of heirloom tomatoes with Persian cucumber, baked falafel, olives, jocoque and Arabic bread with lemon, zaatar and mint.

We recently caught up with Eduardo to get more of the back story behind Niddo, his multicultural background, where he gets his passion for food, what it's really like to work with his mom and so much more. While influences for the fare span across various cultures, the authentic Mexican aesthetic here feels like a visual interpretation of a really good story sewn together with lots of handcrafted bits and pieces. Niddo is easily a must-add to the brunch bucket list.

Photography by Maureen Evans






Tell us about yourself! Have you always lived in Mexico City?
I was born in Mexico City although I grew up in Vancouver BC. Around the age of 3 my family decided it was time for a change, my parents wanted my brother Carlos, sister Michelle and I to grow up somewhere other than Mexico. They wanted us to learn about other cultures, they wanted our minds to broaden — they didn't want us to grow up in the small and closed Jewish community in CDMX. The security factor at that point was also one of the reasons we moved. I have to say, my parents couldn't have chosen a more perfect place for my siblings and I to grow up.
I owe my passion for food and hospitality to a lot of things and Vancouver is one of them. The food scene is pretty incredible. The restaurants, the markets, Friday dinner at a friends houses who may have been French, Chinese, Japanese or German — it was a deep dive into a whole bunch of different cultures. It was because of Vancouver that I started working at a very young age. Helping out my mom, Karen with her catering company, taking weekend jobs washing dishes at the neighborhood café – I loved anything that involved me being in contact with food. I lasted up until some of my last years in high school, which was when I moved back to Mexico City with my mom.  I finished off my last two years of high school in Mexico City and hated living there. I missed my friends, my siblings, the fresh air, the restaurants and the lifestyle (which is waaaay different from a lifestyle in Mexico City). Upon completing high school I moved to Vancouver for a year to work. I worked at Urban Fare (Canada's version of Wholefoods) — I was in a bunch of different areas and learned a lot about food handling and service.






[Cont.]
After 8 months, I missed Mexico City (who knew)! It was time to go to university and the only thing I could think of studying was something to do with hospitality. Turns out the best hospitality school in LATAM (CESSA) is located in southern Mexico City. I applied, got accepted into their hotel/restaurant administration program and a couple of months later, there I was, adapting to a Mexico City lifestyle which I learned to love (after all, I was studying what I most loved and took a job in Communications with celebrity chef Eduardo Garcia while studying). Time went by, internships at hotels in Mexico with St. Regis and Canada with Shangri-La Hotels, and all I could think of was to work full time or open up my own concept. I returned from my second internship, into my 5th semester and I decided to stop my studies there, graduate with an Associate Degree instead of a full degree (one of the best decisions I've taken in my life). I continued working with Eduardo for a year or so more and decided it was time to open something up. This is when Niddo's planning phase started. 






Why did you and your partners decide to open up Niddo?
My Mom and I have always been very close. We're both extremely passionate about food. I do what I do and love what I do, because of her. Since a very young age, we would spend time together in markets, cook together, travel together (we still do to the date). It only made sense to open up something together. She had been wanting to for a really long time. She always worked in food – catering companies, food stores, restaurants… 
On the other hand, Mauricio — a close friend of ours who we met with to talk about Niddo – had always been wanting to be involved in a food-related business, due to his strong passion for it. We met and realized we had the same vision. It only made sense to work together on what would be the start of a strong hospitality group.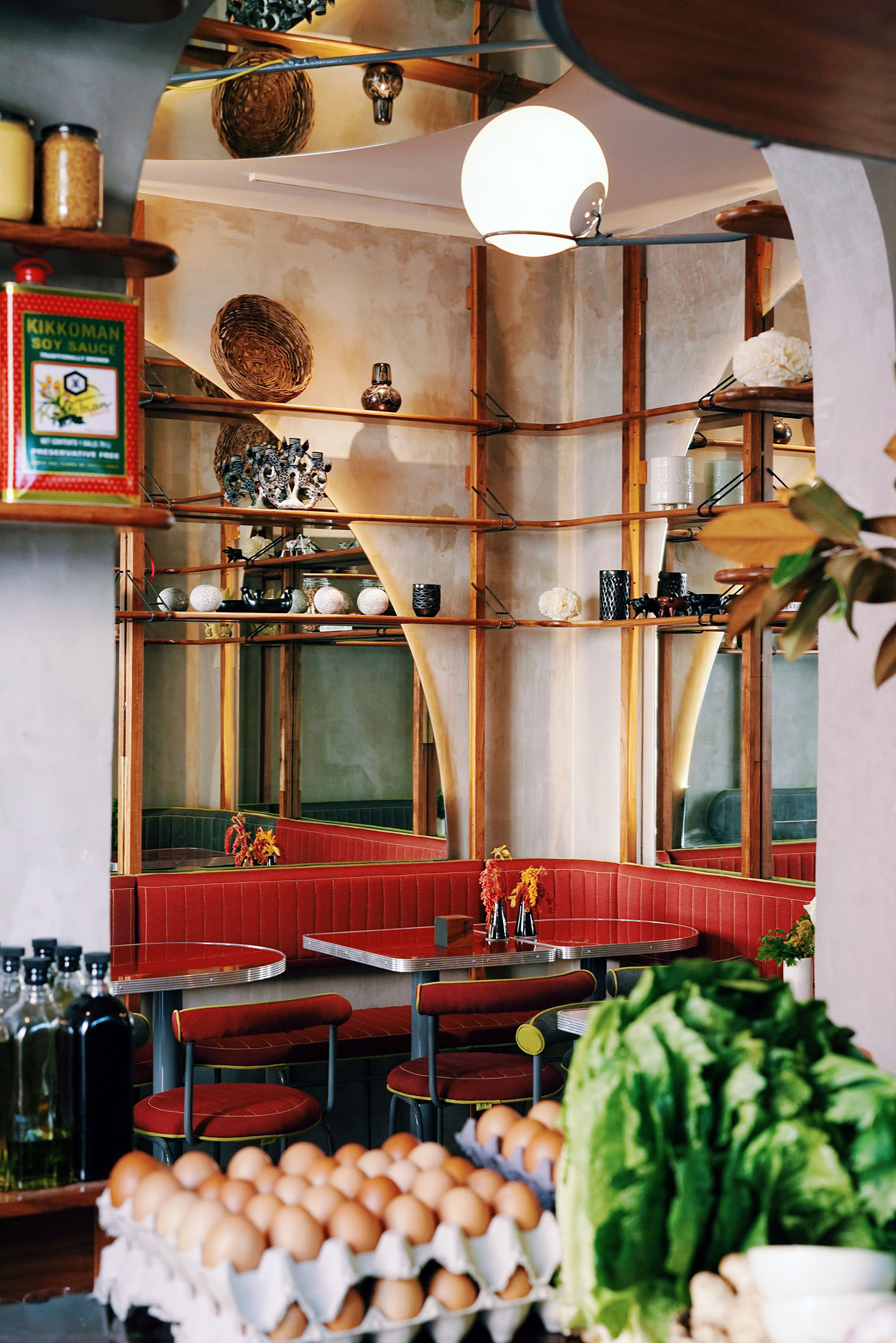 Tell us about the menu! What are some standout items to order for brunch?
Niddo (our first concept) was designed to break with a typical restaurant experience. Niddo is relaxed yet fun, you enter through the kitchen (which is right on the corner and exposed to anyone who walks by). We call our food 'comida que apapacha' — food that makes you feel good, that you can eat every day. We have hearty dishes on our menu that were inspired from our travels and our background. Shakshuka, potato latke, weekly pancakes or a simple yet perfect breakfast sandwich for breakfast or a badger flame beet salad, grilled cheese or burger for lunch. It's simple food. Our café next door serves coffee from Chiapas, wine, beer, daily baked goods, sandwiches and a reduced menu. The ambience in each space is unique. The kitchen is up-beat and entertaining while the café is cool and relaxed. 






What was the design inspiration for this beautiful cafe?
The space was a challenge. It felt tiny when we rented it. The challenge was to make it feel more spacious and warm. We teamed up with Regina Galvanduque (GLVDK studio) and her husband Andrés Mier y Terán to design the space. We though of warm colors (red, burgundy) and polished materials (salam wood and red marmol countertops). Pendant lighting, large arched mirrors on the walls and ceiling — these allowed for a more spacious feel and views to the kitchen at every seat. Large metal/glass sliding doors to let in the light and touches of 'locura' which is a neon green color formulated by COMEX. The rounded seats and booths (to make you feel hugged) and polished diner-like tables gave the space a nice twist. We have shelving in the main room with objects we've collected from our travels in Chiapas, Oaxaca and other Mexican states. Clay pieces, pots, books, plants and unique items to fill up the space. To sum it up: Niddo's design inspiration came from Mexico's warmth (adobe, cacao, grana cochinilla, spices) and respecting the neighborhoods 1940's curves, respecting the buildings natural rounded shape and adding arches inside to create more openness. 






Do you have any exciting projects in the works?
We're constantly brainstorming and working on ideas we have, although Niddo's launch has been very time demanding. We're just letting things flow right now. Definitely, our plan is to make more of our ideas turn into reality (it's one of the things that keeps us motivated and excited)… it's just a matter of time. We'll get there… very soon! 
 
Plan your visit (sorry, no reservations) to Niddo and Mexico City →