You're Going to Want to See Mexico's Newest Venue
by
Heather Ash


You know that we go weak in the knees for a hot new venue opening, and when that new venue is all about sustainability without compromising design, consider us faint. Los Cabos is getting such a venue and we have the first look into the beautiful, sustainable venue set to open its doors soon. Claiming 32 acres of preserved land, the team behind Puerto Raíz is dedicated to keeping the space as close to its original state as possible while offering guests top notch event decor, food and unique experiences (distillery classes, anyone?). Led by Adrián Vidal, Alejandro Vidal, and Javier Plascenci alongside event designer and venue owner, Marianna Idirin, Puerto Raíz's goal is to be Los Cabos first natural, sustainable, and regenerative destination all within minutes of a natural estuary. There will be gardens for events, restaurants, a bar, a nursery garden, and recreational and wellness spaces outfitted with materials like bamboo, natural fibers and compacted earth. 
Beyond being able to rent out the space for weddings, dinners, workshops and more, the venue will also host its own series of events and pop-ups featuring art festivals, concerts, and workshops. Stay tuned for onsite glamping, currently in the works, that will provide guests the ultimate Los Cabos experience along with an outdoor bath, jacuzzi, hammock, and high-quality appliances and amenities. We recently caught up with Marianna about her vision, the process of opening a venue and what you can expect for your own event at Puerto Raíz.






Tell us about Puerto Raíz! Why did you decide to open this venue?
Puerto Raíz is a vibrant natural space composed of thirty-two acres of land. Located within minutes of a natural estuary, the biological diversity within the area is incredible. After Hurricane Lidia hit Los Cabos in 2017, one of my partners, Adrián Vidal, saw a need to preserve this incredibly verdant space, and more than just preserve it, to share it with the world. That is what brought our team together — me together with Adrián Vidal, Alejandro Vidal, and Javier Plascencia — to fulfill our dream of creating a destination that combined elements of food, art, and above all culture, to serve as a hub for people seeking a deeper connection to the magic innate in the Baja Peninsula. Puerto Raíz is so much more than just a space for hosting events! It is a natural, sustainable, and regenerative destination. We have numerous organic farms — with our crops grown in sacred Fibonacci patterns to connect them even further to nature's perfection — as well as gardens for events, restaurants, a bar, a nursery garden, and recreational and wellness spaces. As our aim is to be the region's first ecologically sustainable destination, everything we have created is centered around fostering a sense of care and conservation for Los Cabos' natural abundance and rich biodiversity, and ultimately make this available for public enjoyment.






What was the design inspiration behind Puerto Raíz?
The design inspiration behind Puerto Raíz definitely originated from a desire to preserve the natural space in its entirety. Rather than completely changing the natural elements and modifying them to fit a specific vision, we chose to orient our designs around the beauty already present in the natural formations of Puerto Raíz. All our concepts are oriented around sustainability, and we take pride in ensuring anything we add to the area is done so without harming the earth. Consequently, the materials we employ to bring our designs to life are sustainable; we utilize lots of bamboo, natural fibers and compacted earth within our work. Not to mention, of course, is the way we use the magic of nature to enhance our designs, such as using trees to frame venues, or maximizing the natural layout of forest clearings to complete a picturesque setting.






Were there any challenges in opening this venue?
I would say that the process has gone very smoothly! Being surrounded by such an incredible team and having the opportunity to collaborate with passionate, like-minded individuals has made has made the opening of this venue a very joyful and inspiring experience; all of us are determined to create an inclusive, sustainable, and altogether magical destination.






Tell us about the new restaurants that will be opening on the property - What will the menus look like?
The first phase of Puerto Raíz will see the esteemed Chef Javier Plascencia opening his long-awaited new farm-to-table restaurant "Semillón." The inspiration behind the menu arose from Chef Plascencia's desire to make use of locally produced crops within his cuisine, and inject them with the flavor and soul of the Baja Peninsula. The focal points of the menu will be the land and the sea, with seventy percent of the cuisine originating from organic vegetables and fruits grown on-site at Puerto Raíz, and the other thirty percent being local organic meats and seafood. The inspiration behind the cuisine is Mexican-fusion, and a variety of traditional Mexican techniques will be employed, such as the use of clay comales, molcajetes, and a beautiful wood-fire kitchen. Our style of cooking will be very visual, so clients will be able to enjoy watching firsthand the beauty innate in how we prepare our dishes. At Semillón, clients will be able to dine on world-class cuisine originating from incredibly fresh ingredients while being surrounded by an ambiance dedicated to the wonders of nature.
In addition to Semillón's opening in 2019, Puerto Raíz will have a second phase of development with the opening of "Animalón Sur." This new restaurant evokes the soul of Chef Plascencia's original "Animalón" located in the Valle de Guadalupe. A new vision will be brought to Puerto Raíz's Animalón Sur, with a fine-dining concept that will bring forth a new and special culinary space to the Baja Peninsula. Opening only for dinner, this innovative restaurant will make use of both high-quality regional products and exclusive ingredients from around the globe.






Any inside information we should know for those looking to host an event here? Will you have onsite catering, rentals, etc?
Of course! Anyone can host an event at Puerto Raíz; the project was designed to be dynamic and flowing — just like the natural space it's located in! People looking to host events will have full support from my company, Event Design by Marianna Idirin, along with my experienced team of designers and coordinators — you can count on having the best of the best helping your endeavors every step of the way! You can feel free to bring your own decor, but you also have the option of working alongside my other company, Warehouse Rentals Los Cabos, which has an incredibly diverse decor inventory filled with sustainable, modern, and nature-inspired pieces. In addition to rentals, we have top-notch catering available. Our vision is to have food tell a story within our events, and for this story to be an incredibly visual experience that guests can live firsthand. Clients will get to see how their food is enmeshed with the incredibly diverse culture of Baja California (as well as the rest of Mexico!). Chefs will prepare food in front of guests and tell a beautiful story through their cooking — everything from the process of hand-making tortillas to grilling freshly-caught fish on an open fire will be exhibited for guests, allowing them to enjoy the process and take part in its creation. The venue grows a great number of organic crops and medicinal herbs on-site, and these will be freshly picked by chefs to ensure maximum freshness and deliciousness.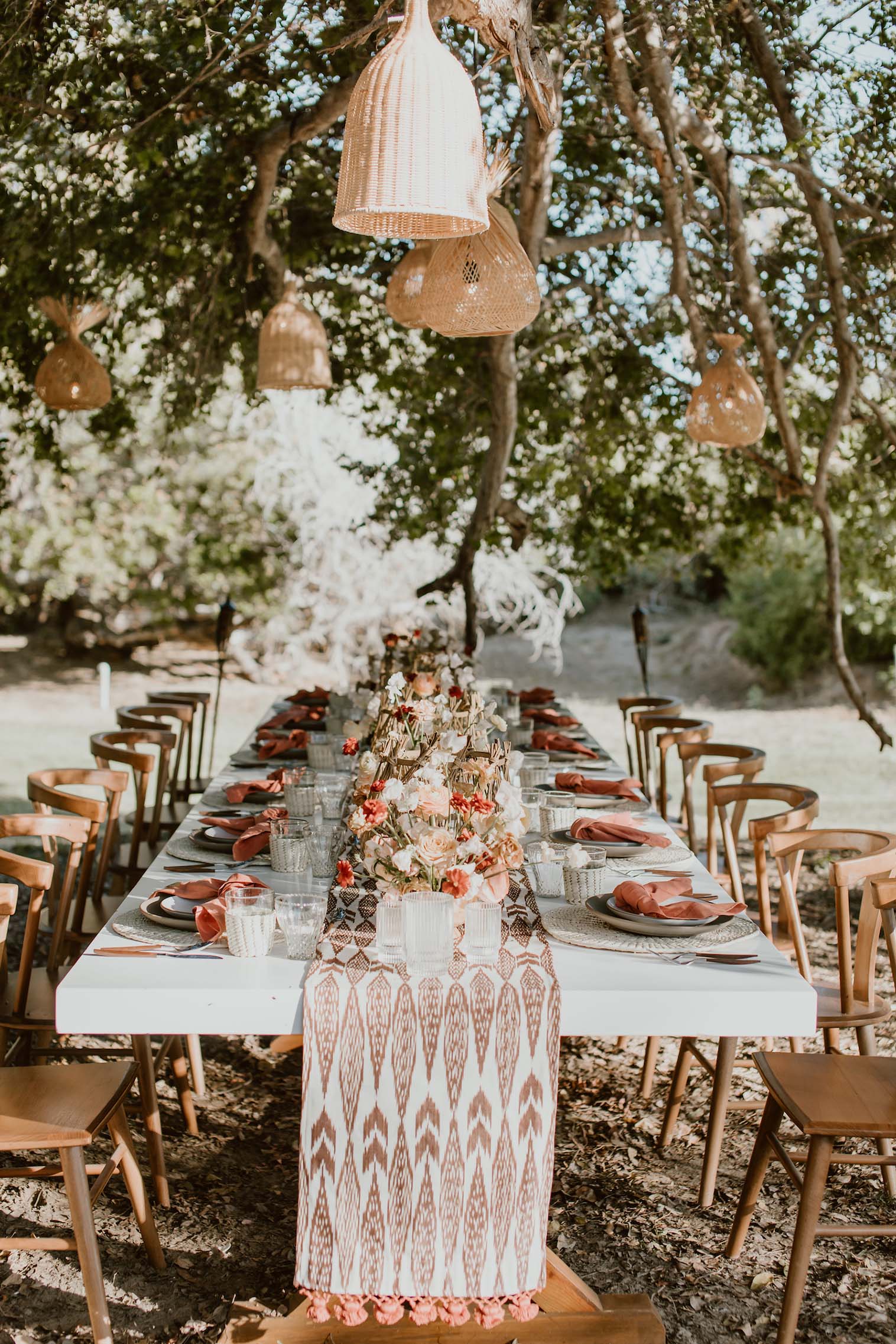 Do you have any other amazing projects in the works?
It will bring us utmost joy to have people from all around the world come and take part in the incredible events and pop-ups we have planned for Puerto Raíz! We already have very special guests in the works: chefs, renowned artists, musicians, DJs, wellness experts, and much more. We are also planning on offering distillery classes; where guests will have the opportunity of participating in workshops on how to distill their own tonics from organic plants grown on-site. The experience will encompass everything from hand-picking fresh plants to participating in classes teaching mixology, as well as the elaboration of natural beauty products. The end of the experience will consist of a farm fresh meal, a tequila and wine tasting, and many new lessons learned!
Due to the incredibly diverse space Puerto Raíz is located on, the possibilities to create magic are endless! We are planning on having art festivals, concerts, and workshops, so people can come take part and make Puerto Raíz their own personal playground.
We are also currently designing a glamping concept, where people will be able to enjoy the luxurious commodities of living in a sustainable farm-style cottage — such as an outdoor bath, jacuzzi, hammock, and high-quality appliances and amenities — while also basking in the glorious natural landscape that Puerto Raíz has to offer: organic farms, wildlife, and incredibly diverse flora.






Credits
Venue: Puerto Raíz | Event Planning: Event Design by Marianna Idirin | Rentals: Warehouse Rentals | Florals: Pina Cate | Photography: LA76 Photography