A Collision of Color & Texture Create a Stunning Design at This New Polish Restaurant
by
Alyssa Brown


A hub of art and culture, Warsaw is now also home to a restaurant that's capturing the attention of design lovers around the world. Opasly Tom combines patterns, materials, textures and colors in ways we'd probably describe as fearless if presented on a mood board, but IRL that fearless design approach paved the way for an inviting, spectacular space. From the sculptural glass lighting to the pistachio velvet wall coverings, every inch of this place is dripping in luxe. As for the menu, it's experimental and delicious, with a modern approach that totally complements the atmosphere.
Photography courtesy of BUCK.STUDIO






Bold Textures and Earthy Tones
The bold, split-level space, designed by BUCK.STUDIO, combines earthy color palettes with textural materials to create a setting that feels opulent without being stuffy. Poplar burl veneer covers the walls of nooks and cabinetry while colorful plush velvets wrap the walls and seats. Parquet floorboards and vertically tiled walls add geometric interest, and the modern, form centric lighting gives each space an ambient glow.






Chef's Tasting Menus or Dine A La Carte
The head chef at Opasly Tom touts some serious culinary cred with stints at Copenhagen's Noma, London's The Clove Club and Florence's Cibreo on her resumé. Small plates like green pea dumplings with roasted lemon butter and bacon are served alongside heartier dishes like Baltic salmon with Greek leeks and rhubarb. For those who are feeling adventurous, the chef's tasting menu changes regularly, and might include anything from pig's head terrine with sour cabbage to sturgeon with lard, fish stock and spring vegetables. And you'll certainly want to save room for dessert with Polish farm cheeses and rhubarb panna cotta on the menu.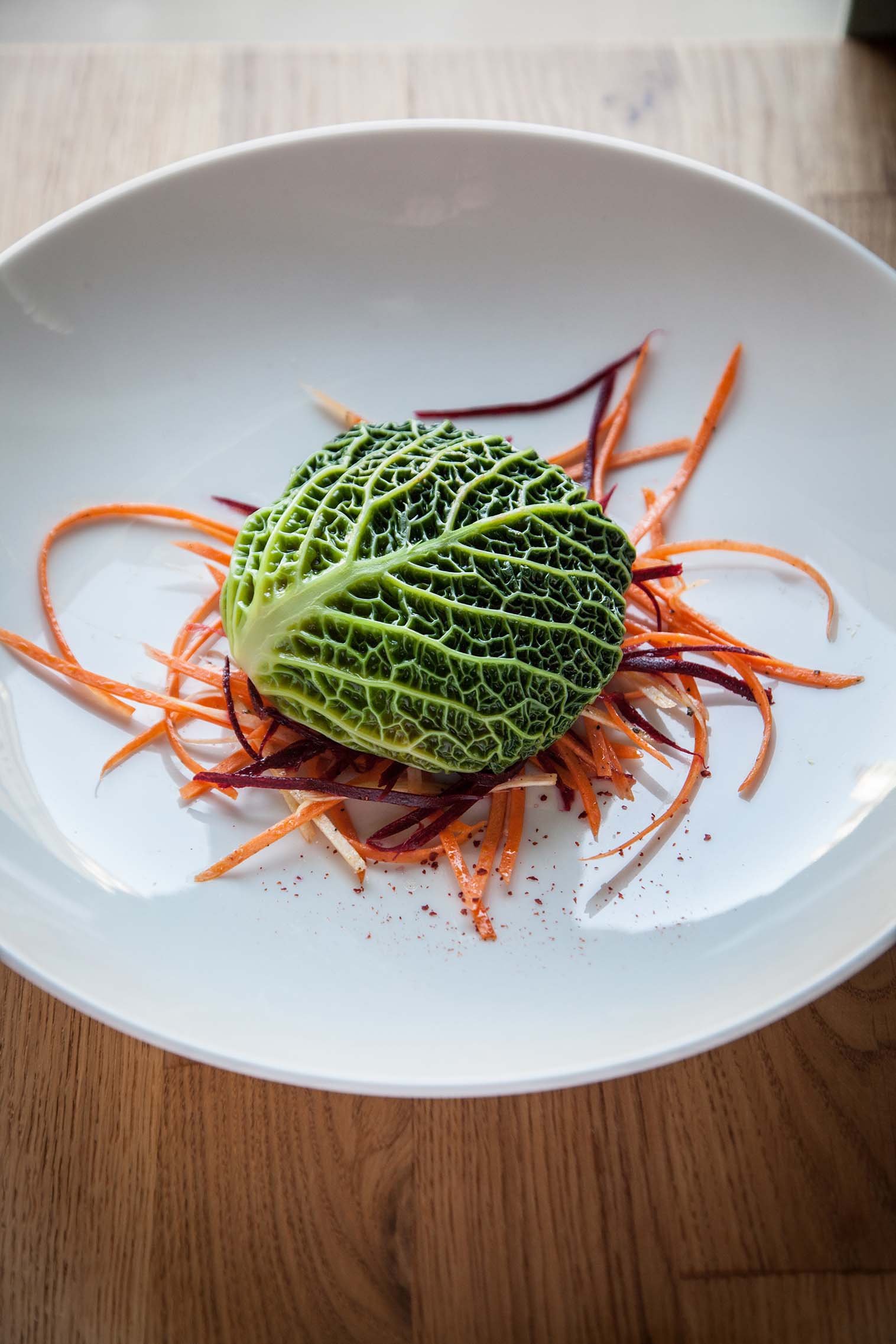 Art and Culture
Opasly Tom isn't the only beautifully designed space in Warsaw. In fact, there are two boutique hotels nearby – H15 Boutique Hotel and Autor Rooms – that fall into the same category of gorgeous. In terms of wandering the city in search of art and culture, Warsaw is home to plenty of private art galleries, a neon museum and a large Museum of Modern Art that's scheduled for an expansion in 2020. There's a big nightlife scene here too with a solid combination of rooftop bars and underground dives. And, for all those history buffs out there, a wander through Old Town or the POLIN Museum are sure to impress.






Plan your visit to Opasly Tom →