A Garden Focused Restaurant Opens in the Heart of Manhattan's Midtown East
by
Alyssa Brown


Between the fame behind French architect Joseph Dirand and the Michelin stars behind chef Alain Verzeroli, it should come as no surprise that this new Manhattan restaurant is trending over design blogs and magazines across the country. Le Jardinier is more than a trendy spot though, it's a beautifully designed restaurant with serious staying power. The menu here is vegetable-centric, rooted in classic French techniques. The atmosphere is sophisticated, with a softness that makes it feel welcoming. And the desserts? Mon dieu, you're going to want to get in on that action!



Photography: Adrien Dirand


A Celebration of Seasonality
True to its moniker, the menu at Le Jardinier is largely centered around the seasons of the garden, emphasizing vegetables as worthy of comprising an entire meal. Not exclusively vegetarian, an a la carte meal here might start with a dish of melon, burrata, figs and marcona almonds along with a dish of summer squash, montauk fluke and lemon verbena. From there, you might dive into fingerling gnocchi with watercress, parmesan and radish or roasted lobster with cherry smoked potatoes and coralline bisque. Verzeroli's precise French cooking style may have garnered him Michelin stars while working for 21 years under the late french chef Joël Robuchon, but here at Le Jardinier, the menu feels as approachable as it is considered. For those who prefer a fine dining setting, Verzeroli's restaurant Shun combines French and Japanese influences to create tasting menus, and it can be found just upstairs.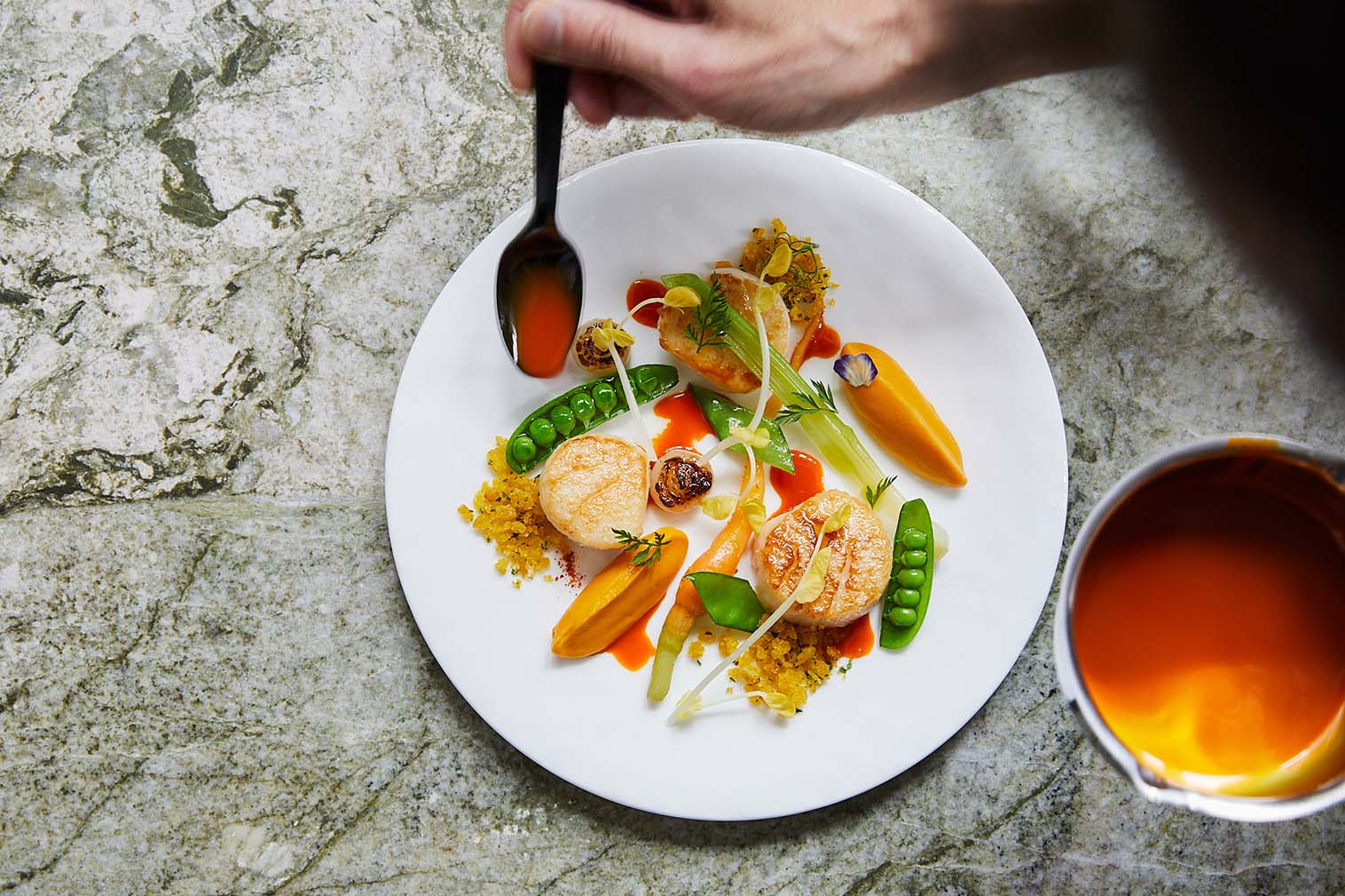 Photography: Nicole Franzen


Greenhouse Meets Midtown East
Set along Lexington Avenue at East 53rd Street, Le Jardinier is filled with filtered sunlight, varied textures and vibrant plants, and a green theme runs throughout the space. Opulent green marble wraps the walls, bars, benches and floors while mossy green velvet anchors the upholstery. The restaurant has a sophisticated ambience that's par for the course in Midtown East, but Dirand manages to play with light, space and details in a way that makes the whole place feel soft and greenhouse-like. From here, a wander up the marble-wrapped staircase will take you to the more formal dining room at Shun.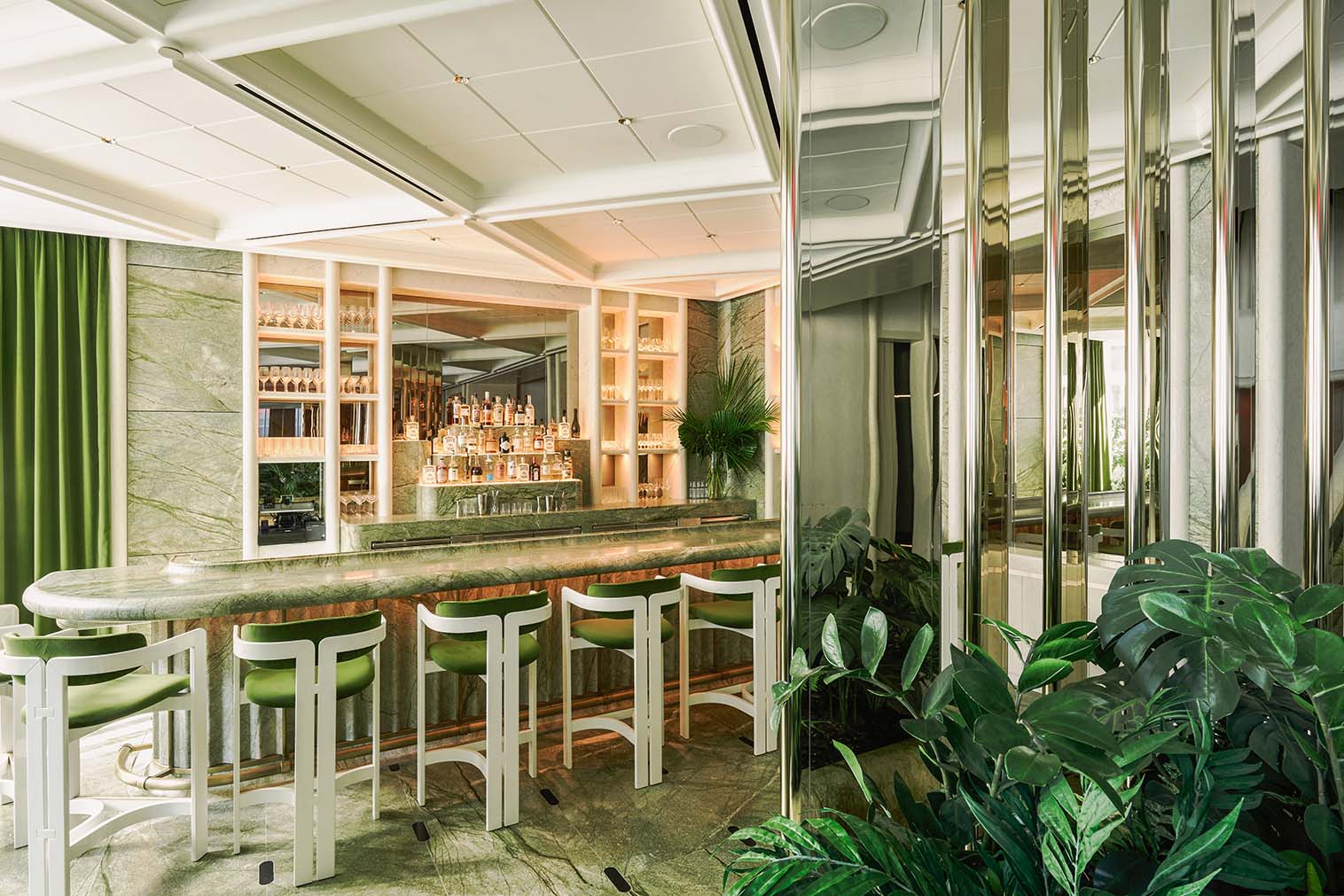 Photography: Adrien Dirand


The Complete Garden Experience
The buzz about Le Jardinier may be more to do with its impeccable design and award-winning chef, but you'd be missing out on the complete experience if you skip the proper start and finish, also known as cocktails and dessert. The bar program here was created entirely around the vegetable-driven menu and includes craft spirits mixed with house made tinctures and fresh fruit juices. As for dessert, executive pastry chef Salvatore Martone, who also worked under chef Joël Robuchon for over a decade, delivers beautifully crafted sweet treats that look like little works of art. We're talking strawberries with strawberry mousse and basil granita served in a terrarium and decorated with edible flowers. It all reads as proof that the garden is the glory.



Photography: Nicole Franzen


Reserve your dining experience at Le Jardinier →