Attention Los Angeles: The Kassi Club Is Here & It's Taking You to Greece
by
Adam Szafranski
Kassi Club, West 3rd Street, Los Angeles, CA, USA


If there's one thing you can look forward to with LA restaurants, it's that they will be transportive in nature to somewhere far, far away from the busy streets right outside their doors. Within each restaurant, you could be traveling to the coast of Italy or the islands of Greece, and don't worry, there's no overplayed theme in sight. Instead, tasteful restaurateurs are bringing the best of their travels to your next dining experience, and it's good. So good. Last year, we covered such a restaurant opening from Nick Mathers and Wish You Were Here Group in the heart of Santa Monica overlooking the ocean. Its name was Elephante. One year later, it's a veritable sensation and destination among locals and visitors alike. 
New to the scene for Summer '19 is another project from Mathers and Wish You Were Here called The Kassi Club. And it's taking you straight to Greece, Kastellorizo to be exact. Inspired by the laid back tavernas found along the island's shores, Mathers designed a globally inspired space that feels airy yet rich. It's meant to be enjoyed with friends and family surrounded by thoughtful interiors and the freshest food. Located on the other side of town from Elephante, Kassi Club is right on 3rd St in West Hollywood, making it the perfect complement to its ocean-front sister. 
We recently headed to LA to experience The Kassi Club first hand, chat with Mathers about bringing the space to life, and see what the food and drink program is all about.
 
Photography by The Venue Report, Michael Roach and Sean Hazen for The Kassi Club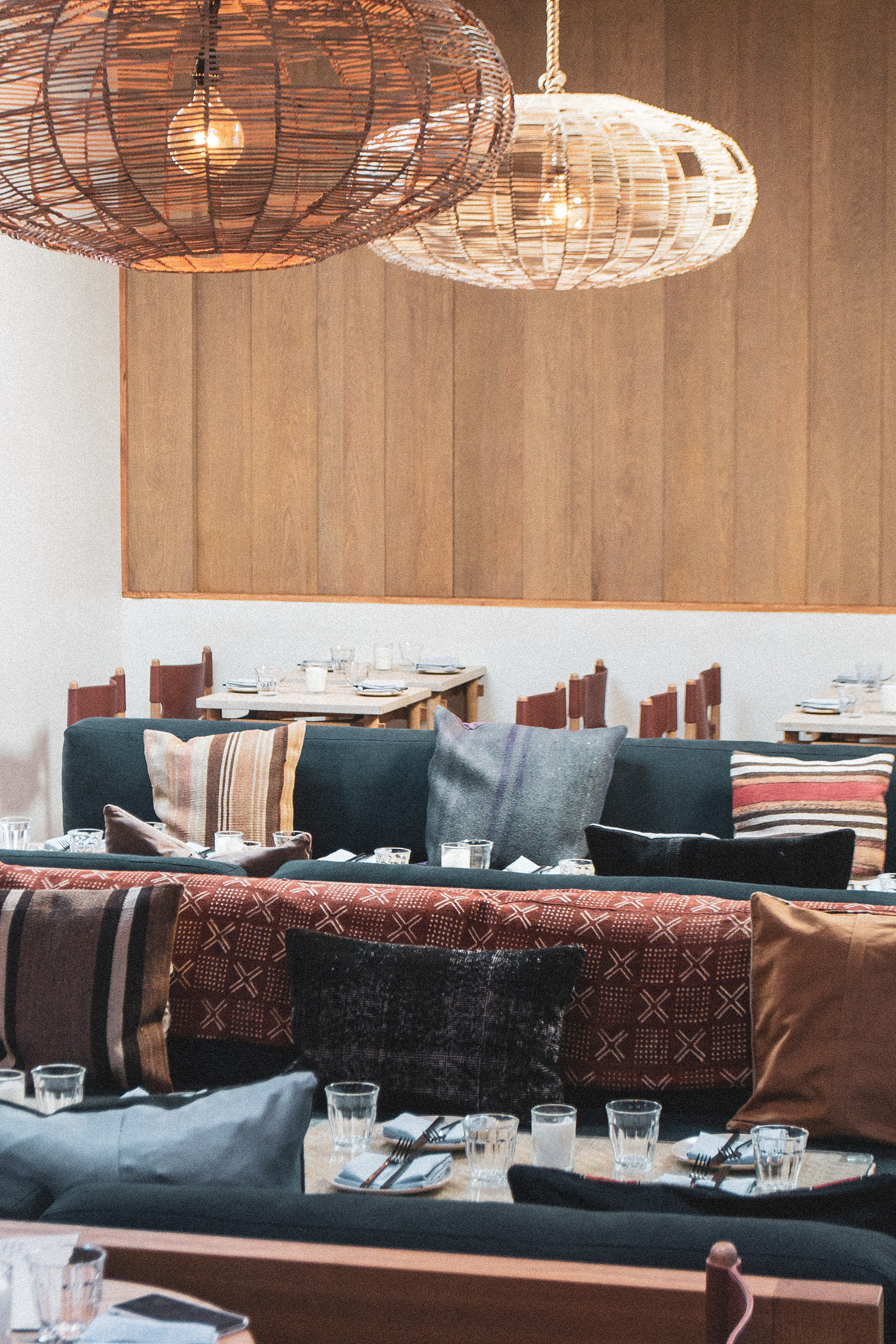 Greek Intentions 
Inspired by his travels throughout Greece, Mathers wanted to bring the breezy seaside feeling of the Greek taverna to West Hollywood. Filled with that Grecian je ne sais quoi (what's the Greek equivalent?), The Kassi Club is filled with one of a kind pieces and carefully selected materials. Think textured sandstone from the island of Ithaca, a macrame wall hanging woven onsite by artisans from Mexico, pink marble topped tables, teak shutters and handmade textiles – the palette is muted yet fresh, basically what we want our homes to be like (or is that just me?). 
There are smaller two-tops for catching up with a friend or enjoying date night and plenty of long tables for bringing all of your friends along. There are cozy nooks-and-crannies surrounding the fireplace as well as buzzing bar seating for a night on the town. 






Good for Groups 
Everything at The Kassi Club comes back to the group and enjoying food and drinks together. The menu was created to be shared – rippable pita, passable dips and more – served in big bowls perfect for loading up your plate and passing down. The space was designed with comfort in mind too – the team wants to claim your space and stay awhile, just keep the drinks coming. Looking for a more private experience? The restaurant can be rented out for events too.






Sea-to-Table 
Closer to true Mediterranean fare rather than protein-heavy, "traditional" Greek food commonly found in the US, Kassi Club's offerings are loaded up with salads, seafood and lighter bites, designed for sharing. The communal concept of the food program alongside the lightened up dishes and low ABV cocktails support the sit-and-stay-awhile attitude of the space. Led by Executive Chef Thomas Lim, everything is fresh and cooked over a wood fire, giving each dish a signature smoky taste. His goal? Give guests, "the vibe of a relaxed European holiday in Los Angeles." 
During our visit, we were able to try a little lot of everything like the sea bream and crab fettuccine. Our selections are below, just in case you need guidance for your own visit, which you probably don't. 

CHEESE SAGANAKI
cherry honey
SPANAKOPITA
tzatziki, green chili sauce
SALT & PEPPER CALAMARI
lemon, tzatziki
CRAB FETTUCCINE
herb butter, tarragon, spicy Doug
GRILLED SEA BREAM
salsa verde, potato leaf
POTATOES
scallion tzatziki