Considering a Coastal Getaway for Your Birthday? Here's a Modern Cabin You'll Love
by
Alyssa Brown


If your birthday bucket list is anything like ours, it's probably filled with beautiful cabins, secluded beaches, and tons of wildlife destinations. Enter the place that rolls all these goals into one: Bay Point Landing. Set on a stretch of sandy coastal land beside Coos Bay in southern Oregon, this modern getaway includes gorgeous cabins, airstreams, caravan campgrounds and a clubhouse with a saltwater pool. 
It's the kind of place where you can comfortably relax and hang out with friends for a few days, or go exploring solo in the nearby trails, forests, and parks. Think of it as a choose-your-own-adventure kind of birthday spot.
Photography courtesy of Bay Point Landing






Coastal Cabins, Modern Airstreams, and BYO Ride
The sprawling grounds here are filled with overnight accommodation options, each with a view of the bay. The tiny architectural abodes at Bay Point Landing come in two sizes, including an option with a king bed and a sleeper sofa or a smaller option with just a queen bed. Each of the coastal cabins has a full bathroom, kitchenette, living room, patio and firepit along with glass sliding doors and lots of windows to let in natural light. Dreaming of getting your hands on an airstream of your own for your next b-day? No need to add it to your outlandish gift wishlist, as BPL has its own collection of silver airstreams, which sleep up to four overnighters each. If your birthday squad is filled with people who have their own homes-on-wheels, there are plenty of full hook-up sites for RVs, coaches, campervans or whatever else your party people might be driving.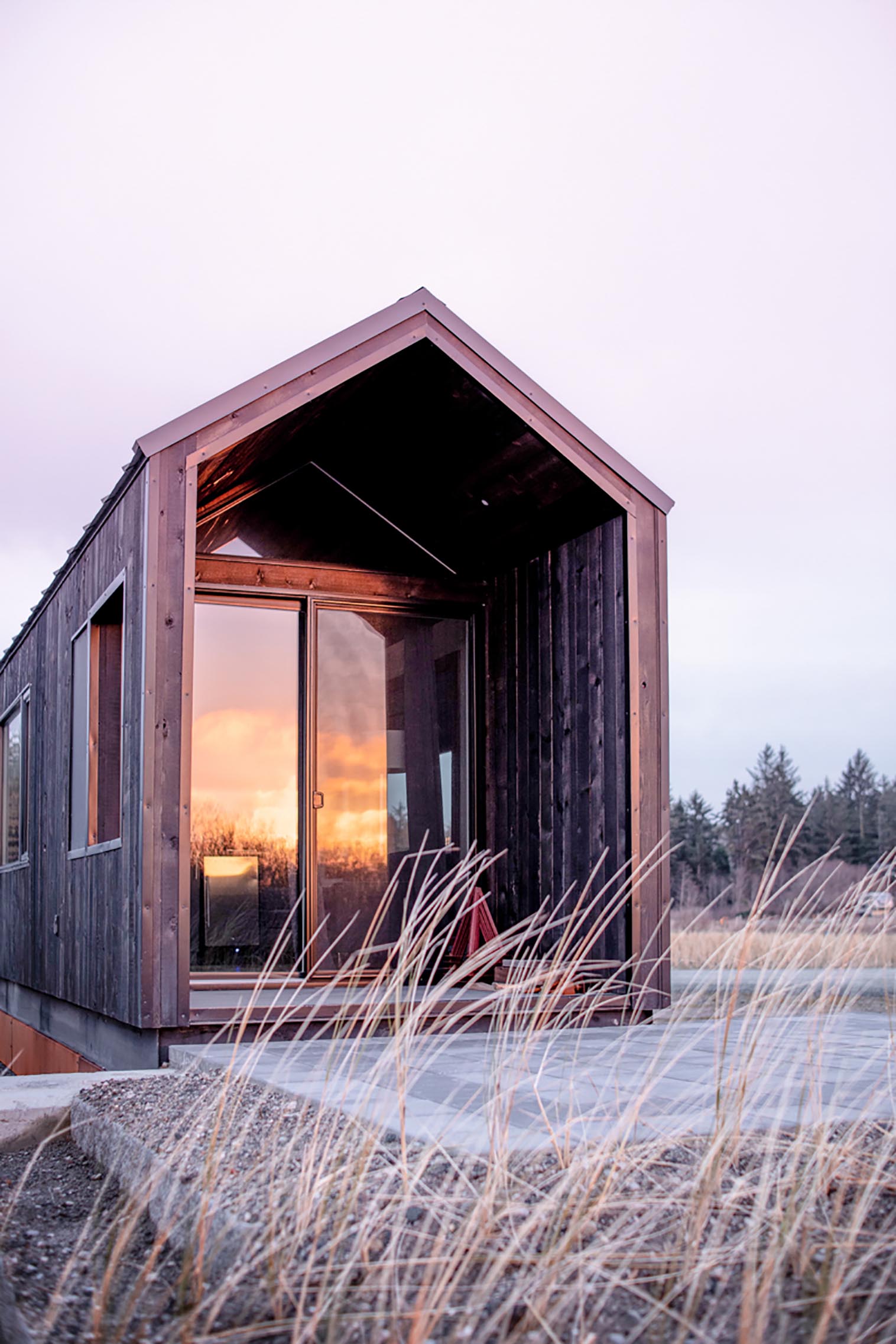 A Clubhouse, a Saltwater Pool and a Party Spot
When it comes right down to what makes this property feel luxe, it's all about the clubhouse. Inside, you'll find a cozy communal space, a heated saltwater pool, a fitness center, and a general store where you can snag a bottle of birthday vino. Head outside to hang on the terrace or sit around the fire pit and share stories with your road crew. Considering hosting a big ole shindig for the birthday occasion? There's seating for up to 50 guests in the clubhouse, or in the nearby pavilion overlooking the bay. We could easily imagine this turning into a weekend-long celebration.






Explore Oregon's Southern Coast
Bay Point Landing is set on a mile-long stretch of sandy beach that overlooks Coos Bay. From here, it's easy to access Cape Arago State Park, where whale watching, hiking, and fishing can be enjoyed in a peaceful setting. Also nearby is the Coos Bay boardwalk, the 7 Devils Brewing Co and the Coquille River lighthouse. The northern spit of Coos Bay is also an excellent spot to check out local wildlife, as it sits between the beach and the bay, surrounded by freshwater wetlands and ponds. If a birthday spent enjoying nature, water and wildlife is your idea of a good time, this spot is going to be your jam.





Want more cabins? Check out our 40+ favorite cozy cabins and tiny houses.