Forget What You Know About Tea Until You've Visited This Tea Shop in NYC
by
Heather Ash


Current thoughts of tea: English inspired high tea in a posh setting, "bedtime" tea at home – probably chamomile, matcha lattes. Bellocq Tea Atelier just turned all of that on its head. Forget everything you think you know about tea because this tea shop, retailer, and wholesaler is here to educate and inspire all who have a taste. The store and tasting room in Greenpoint, Brooklyn is a curious and delightful experience for all who stop in. Previously kept under wraps by seasoned tea aficionados from around the world, the well-designed space welcomes all levels of tea drinkers to sip the one-of-a-kind blends created by owner, Heidi Johannsen. With the skill of a botanist and an abundance of creativity, Heidi has crafted an all-encompassing tea experience that leaves its mark on you.
The charming tea room is bursting with ferns, exposed brick walls, rosy-hued velvet seating and plenty of ornate details. Jars of Heidi's original loose-leaf tea blends and pure variations line the walls of the jewel-toned retail space where candles, tea accessories, and other small goods are sold. Whether you are visiting Brooklyn or call it home, Bellocq Tea Atelier is sure to jump to the top of your to-do list of this beloved borough. 



Photography: Maddie Tsang


A Warm Welcome
Upon entering through the gray front doors, the Atelier welcomes you with rich colors, countless things to take in, and the comforting scent of warm tea. If the space feels familiar, it was designed by Heidi's husband's architectural firm, SAAW, who is known for their work with Anthropologie, Soho House, and West Elm, just to name a few. It's filled with ethereal touches, wild blooms, old-world apothecary goods and tea, lots of tea. It's undeniably dreamy and just the kind of place we want to spend a rainy late-summer day or crisp fall morning. 



Photography: Maddie Tsang


The New Tea Time
As mentioned, the tea is offered either pure or as a blend. The pure varieties are carefully curated and sourced with a scientific level of precision, probably unfamiliar sounding if you're more of a novice, and you can bet there will not be any chamomile available (at least as we know it). Instead, find varieties from the farthest corners of the world with attention to the harvest season (this impacts the flavor). Like a fine wine, some pure teas are even-aged several years – we spotted one dating back to 2004. 
Onto the unique creations of owner, Heidi – the blends. Each custom blend pops with color and is just as visually interesting as they are with taste and smell. Her creative process for a new blend starts with a vision for the tea – whether that's a memory, a spark of imagination or a feeling she wants to convey – that gets translated into the scent of the tea. This is important because, beyond the taste of the tea, she ensures the scent is just as powerful (after all, the olfactory is the strongest way to form a memory).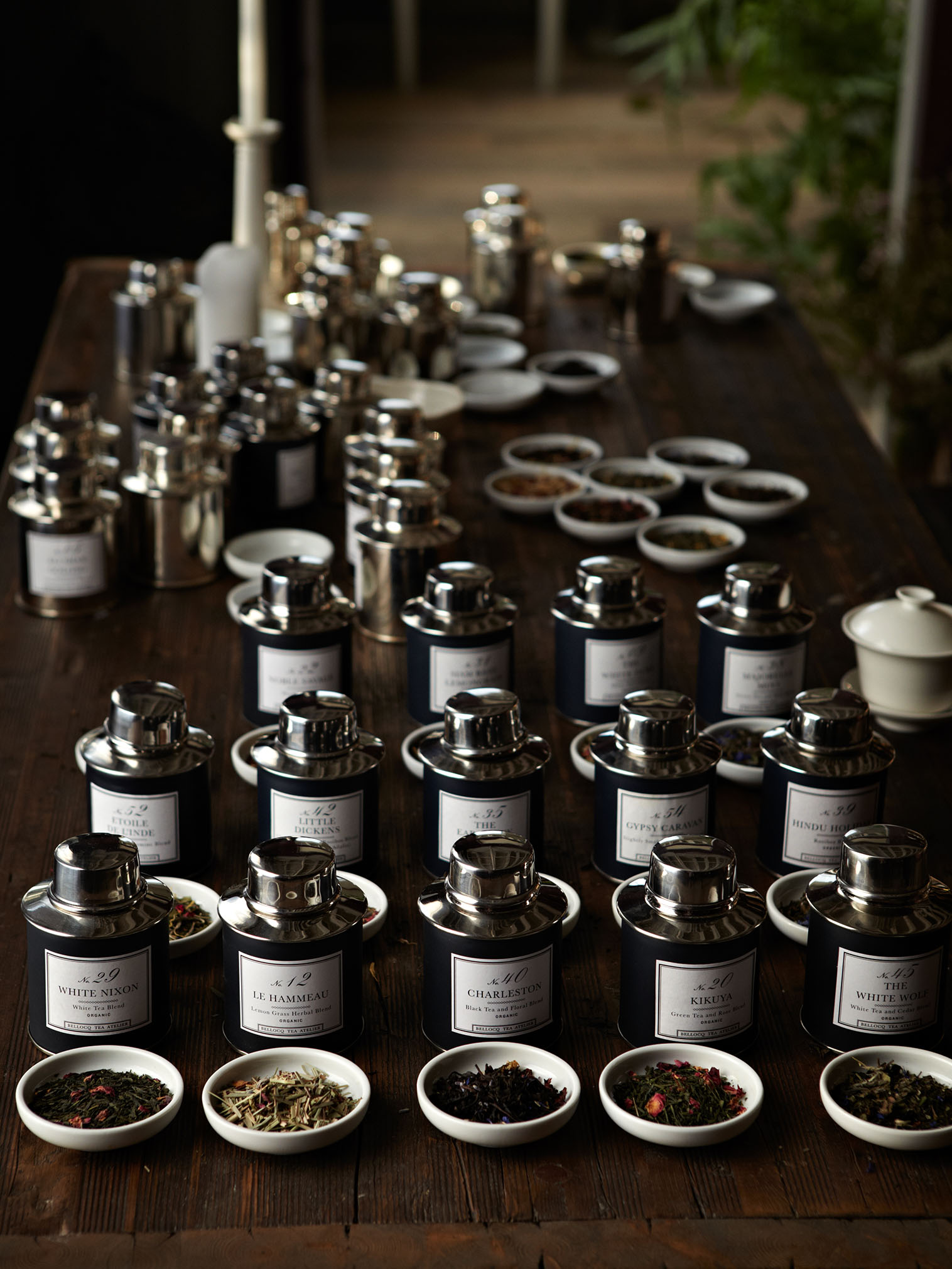 Photography: Bellocq Tea Atelier


Make It a Day
We're sure you could while away the day in this cozy space, but when you eventually venture out, turn to Bellocq's recommendations in the local area to keep the vibe going. Try Esme or Glasserie for lunch or dinner, both just as cozy and welcoming as the Atelier; Archestatus or Porter James for out-of-the-box shopping; and end the day at Achilles Heel or Ramona for a cocktail.



Photography: Bellocq Tea Atelier

Where to next? Check out our 25 favorite tea rooms around the world→