This Couple's Kenyan Wedding Weekend Included Giraffes, a Safari Camp and Maasai Warriors
by
Alyssa Brown
In this edition of real weddings happening around the globe, we're headed over to the banks of the Mara River in Maasai Mara, where Sas and Monty tied the knot after living in Kenya for three years. Over the course of four days, the couple's friends and family joined them in Nairobi for a traditional Kenyan barbecue, visited a giraffe sanctuary, participated in a Maasai warrior dance around a fire, and went on a safari in Maasai Mara National Park. Of course, they also attended a gorgeous multicultural wedding with the natural landscape setting an unforgettable backdrop.
We recently caught up with the groom to get the whole story behind their choice to marry in Kenya and which elements they were most excited to introduce their overseas friends and family to. From the way they settled on the Maasai Mara region to the first cocktail guests were served, they're filling us in on all the details below.
Photography by Heather Waraksa of The Wedding Artists Collective
 
Can you share about the destination? Why Kenya?
After spending three amazing years living in Kenya, we felt we had to share the beauty of the place – the people, the culture, the wildlife – with our family and friends. So, we settled on celebrating our marriage in one of our favorite places in Kenya, the Maasai Mara. 
Specifically, we wanted to get married along the banks of the Mara River, the place of our first trip together and where we really started to fall in love. But, we also wanted to make sure people got to experience the life we led in Nairobi and some of the flavor of the city. We turned the celebration into a 4-day party – starting in Nairobi and ending in the Maasai Mara.



Tell us about your venue choice. What made it the perfect place for your celebration?
Our favorite camps are small, intimate affairs with impeccable service and attention to detail. So, we felt incredibly lucky to find &Beyond Kichwa Tembo that combined intimacy and unparalleled service with the ability to accommodate all of our 50+ guests. Their principles revolve around conservation and incredible engagement with local communities to further a cooperative dialogue around preserving the lands everyone enjoys.
Most of our guests stayed in Karen at Hemingway's Hotel, a gorgeous plantation-style boutique hotel tucked in the lush gardens of Karen. Gift bags were waiting for the guests, filled with treats such as Kenyan coffee, Kenyan Kericho tea, our favorite artisanal arrowroot chips, a keychain made of Maasai beads to support local craftswomen, etc.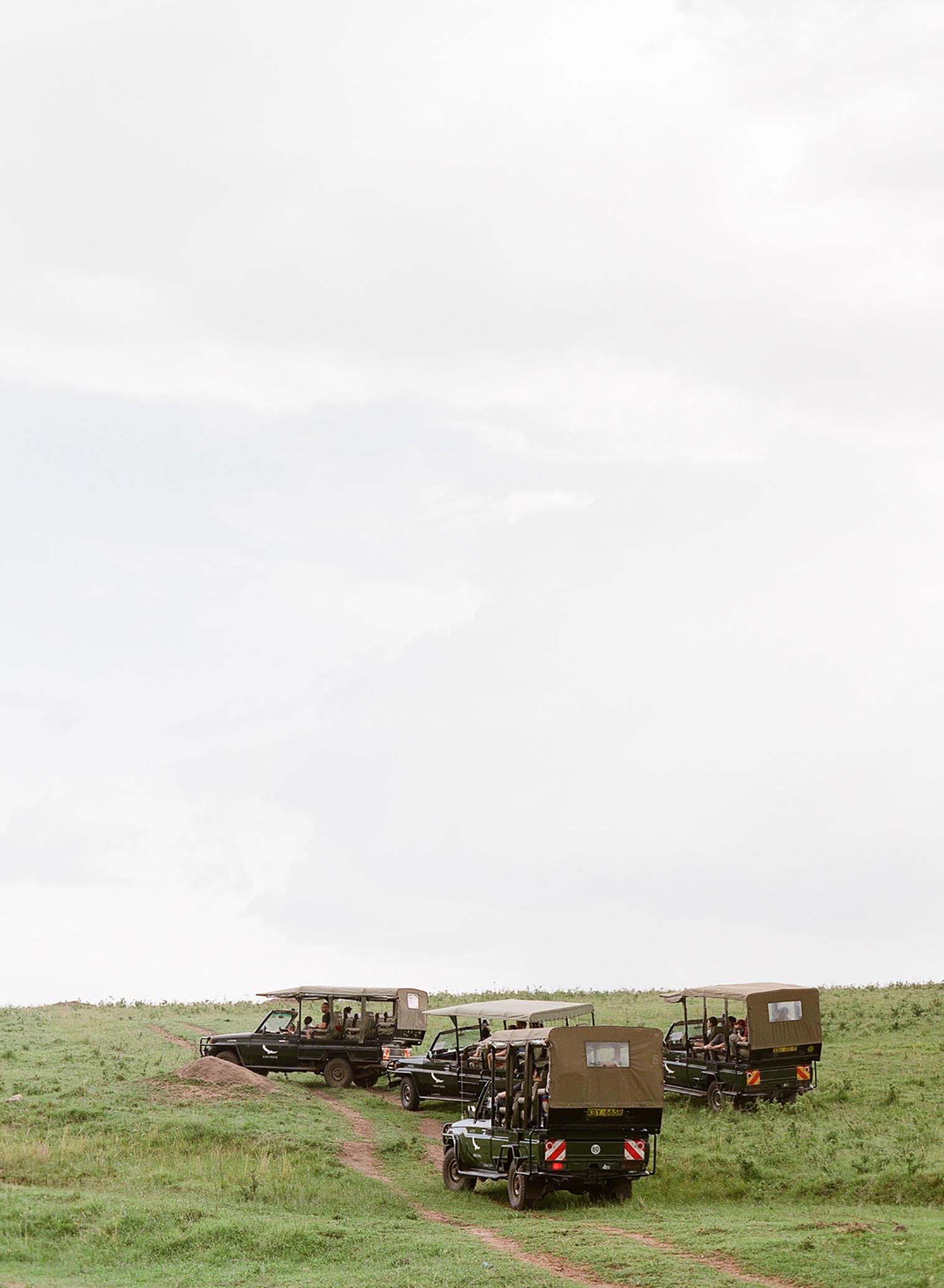 Tell us what events you had set up for your guests to enjoy.
The first day of the wedding kicked off with all our guests piling into two traditional Kenyan Mutatus – decked out city buses with strobes, graffiti art, and pumping African beats. We headed to the beautiful Giraffe Manor and Centre where guests can feed and pet rescued Rothschild Giraffe's before they are released into the wild.
Following some time with the giraffes, we made our way to Karen Gables – a dutch-styled mansion with lush gardens and pool – just near Hemingway's in Karen. We served a traditional Kenyan Nyoma Choma (BBQ), paired with some of our favorite wines imported from some of our favorite vineyards in Franschoek and Stellenbosch, South Africa. 
The party ended on a high note with Sas, me, and some friends jumping fully clothed into the pool!



Can you tell us about the traditional Kenyan aspects that went into this wedding? 
We wanted to incorporate both Western and Kenyan traditions into the wedding.  Since we were holding the ceremony in the Masai Mara, it was only natural that we would hire several Masaai warriors to stand guard and to become a part of the wedding.  We also had the Masaai warriors perform a ceremonial dance for all the guests the evening before the wedding and allowed guests the chance to buy some of their homemade wares and handicrafts.  
For the reception and dinner, we knew that the weather would cool down once the sunset, so we hired some local artisans to provide custom-made traditional Kenyan "kikoy" shawls for the guests in our color scheme. These were draped over each guest's seat, to use that evening and also as another memento of their travels. Name cards that Sas calligraphed by hand were also attached to each kikoy. 
Lastly, Before being seated for the ceremony, guests were served traditional "dawas," which are made with bush honey, lemon, and vodka. We didn't want any guests waiting without a drink!



Tell us about how you chose your photographer?
When Sas was working in advertising and desperate for a creative outlet, Heather hired Sas to assist on one of her shoots and it changed her life. Having been inspired by Heather's work, it was incredibly humbling and special to have her capture our wedding. Looking through our photos now is like opening a perfectly curated time capsule of so many incredible moments.



If you had to pick, what was your favorite part of the wedding day/week? 
My favorite part of the wedding was the drive back to the lodge, just after the ceremony. Guests were treated to a mini safari ride where we spotted dozens of lions and elephants just outside the camp.



What is your top tip for couples looking to plan an adventure destination wedding?
Hire a wedding planner to think through all the logistics and who has expertise in the given location, so you can incorporate lots of local details.






Looking to have a destination wedding in Kenya? View available venues here →