This Micro Wedding in Mexico was Hosted at a Garden Filled Ranch Venue
by
The Venue Report
Rancho Luna Escondida, Guanajuato, México
We are proud supporters of micro weddings, the affectionate term for hosting an intimate wedding instead of an elopement or a large wedding. Some will state that a micro wedding means you are inviting less than 50 guests and some define it as inviting less than 30 guests. Regardless of the guest count, micro weddings offer a lot of benefits to couples who vow to be different. Brides and grooms alike are opting for these sweet small scale celebrations for many reasons including; cost savings, the ability to plan destination events easier and the gift of being able spending more time with their guests.
Sweet newlyweds Isabella and Joaquin were perfectly matched in paradise, and planned a lovely micro wedding to celebrate their love at Luna Escondida in San Miguel de Allende, México. With winding cobblestone roads that lead to gorgeous grounds, lush gardens and a beautiful surroundings, this idyllic ranch venue is in the very heart of Mexico. With multiple event spaces including gardens, a salon and even horse stables, their guests were able to wander the grounds and explore the nearby town. 
 From the design and planning team of - Florklore Studio + Lucero Alvarez :
They say that "In life it's not where you go, but who you travel with." But every once in a while there's that beautiful couple blessed with that perfect elopement - the perfect who and the perfect where!  Isabella and Joaquin decided to have an intimate micro wedding at Luna Escondida in San Miguel de Allende that exuded exactly this.  As luck would have it, this gorgeous couple who met through friends took a chance on each other and chose a path that led them to this day that was just as special as they both could have ever wanted. After all, how could an elopement at Luna Escondida - this hidden away paradise that is at once both immense and intimate - be anything but dreamy. The magnificent, sprawling natural landscapes of this venue; filled as it is with timeless beauty and this completely vibrant energy. The day began by the couple getting ready with their closest friends.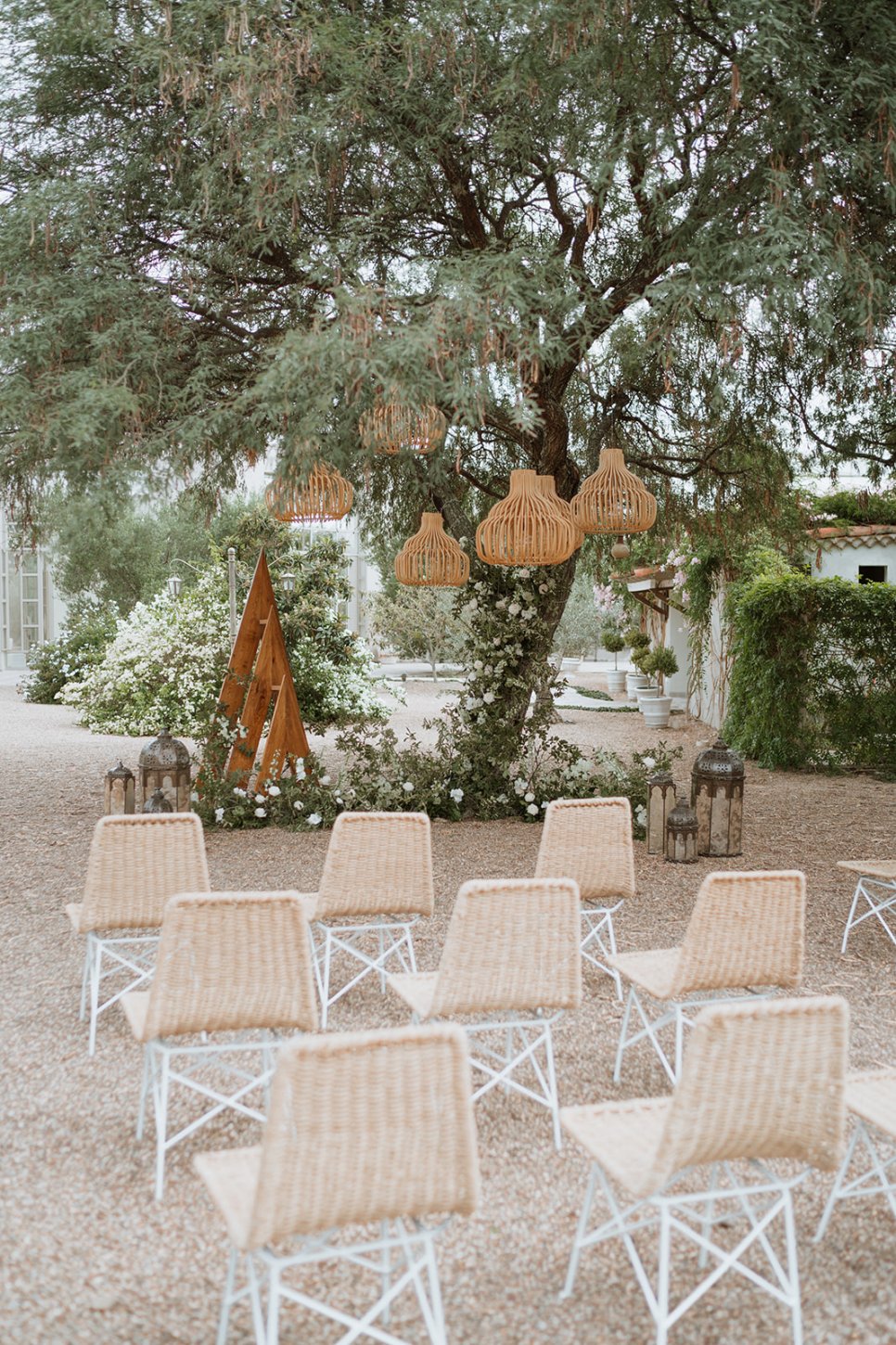 A Destination Wedding With Close Friends 
The wedding was a small celebration filled with Isabella and Joaquin's best friends who traveled from the United States and Europe. The couple opted to have a micro-wedding with their nearest and dearest. Due to the intimate guest list, it left the planning team with much more freedom to take perfect care of every small detail, creating a dream environment and allowing every guest to feel like a VIP. They mean less budget because we will lower the variable cost like catering, open bar and centerpieces. But on the other hand, the rest of the cost keep the same because they are fixed cost like photo, video, venue, makeup, ceremony.
Because guests were traveling internationally to the wedding, Isabella and Joaquin opted to let the culture of the locale shine with a Mexican themed wedding. Guests were ttreated to traditional decor and food crafted by local vendors. The welcome cocktails and a three course meal were chock full of traditional ingredients so guests could become more familiar with the culture of the country.

 
A Culinary Affair

Being that the wedding theme was focused around Mexican gastronomy, bride and groom put a large emphasis on sharing their favorite Mexican fares with their guests through the vibrant flavors that Mexican cuisine is so famous for. 
Guests delighted on a four course feast starting with a creamy corn soup garnished with cempasuchil flower followed by a pork pernil roll with a 4 chili sauce. For dessert, pears in syrup were served.
The Location 
The couple knew that the location and vendors of their micro wedding were extra important elements, as every single detail would be felt and noticed by guests. The space needed to be dramatic yet cozy and intimate and the planning needed to be flawless. 
Luna Escondida lives up to its name for it is a hidden gem ready to be discovered. Located fifteen minutes from the charm and excitement of downtown San Miguel de Allende, this exclusive ranch is easily accessible, yet kept carefully veiled aside for the privacy and comfort of its select guests. when renting luna escondida, you get private use of the fully renovated and lovingly furnished estate, which gives you and your guests exclusive access to all facilities, away from the hustle of the city. One of the added bonuses of a micro wedding is that you can treat your guests to their overnight accommodations at event spaces like Luna Escondido that sleeps around 25 guests. 
Isabella and Jaquoin enjoyed a fun, festive wedding weekned with their guests and even ended it The next day, the guests attended a Mexican themed brunch with tacos with delicious handmade tortillas, mariachi and an amazing mixology bar with luxury cocktails like xoconostle margarita, frozen nopal cocktail with mezcal and spicy cocktails.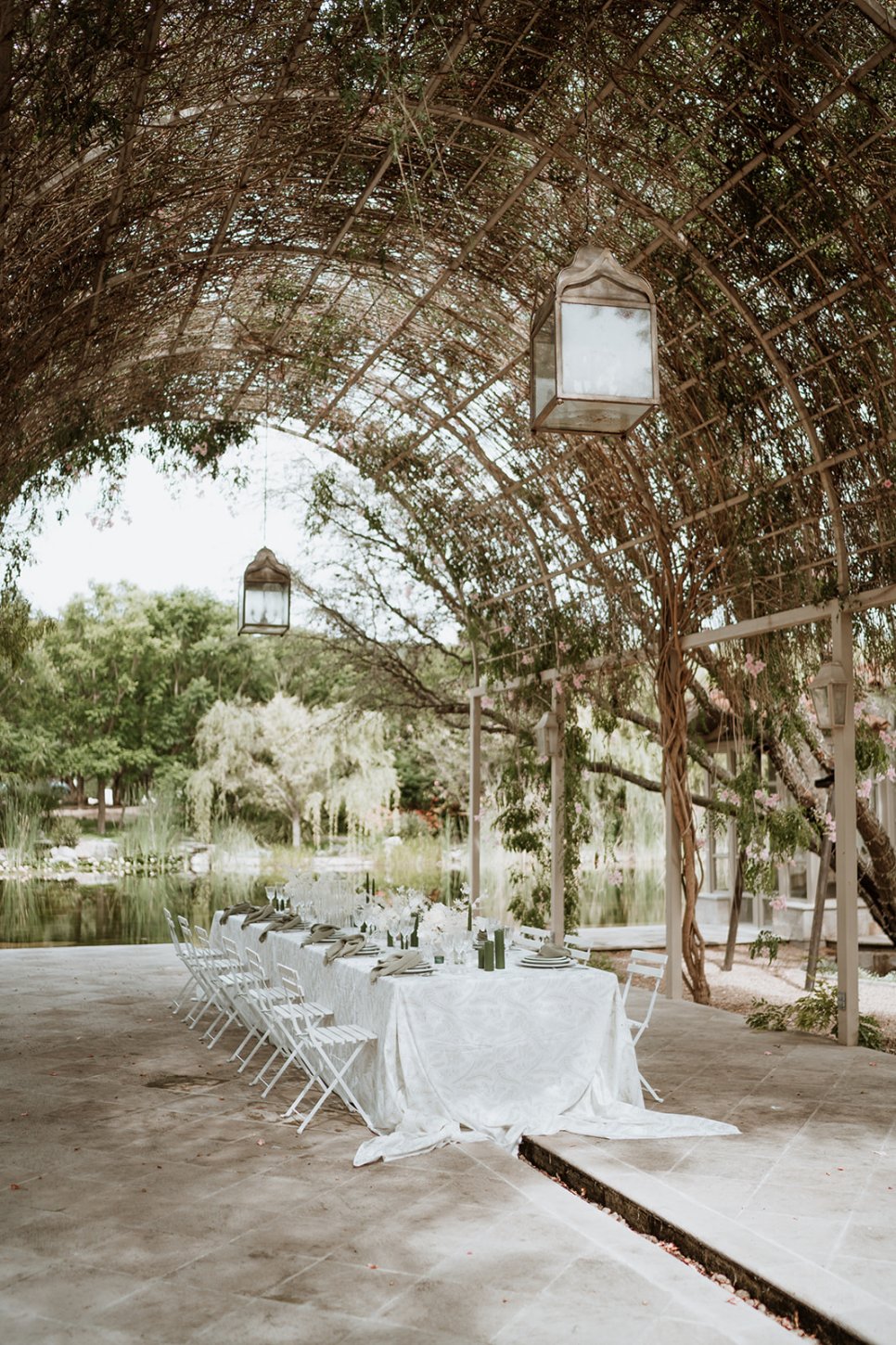 * Fun Tip: One of the best bonuses of a micro wedding is that if budget allows, you could treat your guests to the lodging so it's a really like a full weekend experience instead of a one day wedding.
Credits + Vendors: 
Photography + Video: MC Weddings  / Planning + Design: Lucero Alvarez  / Florist: Florklor Estudio / Rentals: Warehouse Rentals  / Venue: Luna Escondida / Makeup Artist: Ana Meraz  / Hair Artist: Dominica del Rio / IG: by_dominica / Quartz Ceremony: Semillas Despiertas / Bridal Dress: Bradia Atelier / Grooms Attire: Harris & Frank 
Find out more information on the venue Luna Escondida here ->
Find venue spaces in Mexico here ->