An Earthy, Natural Wedding in the California Redwoods
by
Alyssa Brown
18501 Van Zandt Resort Road, Philo, CA, USA
Created in partnership with our friends at The Land. 
The redwood forests of Northern California set a stunning backdrop for any event at The Land, but it was especially perfect for this couple's earthy, natural wedding. Set in the countryside of Mendocino County, this sprawling venue includes rolling hills and pastures, forests and orchards, rivers and swimming holes. It's the kind of place where a diverse sampling of Northern California terrain can be traversed by never even leaving the property. For this particular wedding, that was a great point of difference, as the couple and their guests were traveling from across the country to enjoy a relaxing, nature centric weekend retreat with wellness as a central focus. The Land is known for creating weekend experiences with a holistic, nurturing approach that includes exploring the natural sanctuary and taking nourishment in the form of daily farm-to-table meals as well as abstaining from alcohol to instead enjoying expertly crafted drinks made with shrubs, elixirs and herbs from the garden (the sparkling rose water sounds like a glass full of bubbly magic!).
We recently caught up with photographer Alex of Love Tribe Weddings to get the full scoop behind this gorgeous day. From the abundant selection of hearty, organic foods to the glamping-style overnight stays, this wedding sounds like an adventure, a festival and a celebration of love all wrapped into one awesome weekend.






Tell us a little about this couple and wedding!   
Katie and Brian are both from DC, so planning the wedding from across the US can be nerve racking to say the least. Luckily, they linked up with Jenni Grubba Events to help make this magical day a reality. Their wedding day landed on my actual birthday and I had a new baby at the time but I just could not pass up this opportunity. They basically wanted to have a celebration with loved ones on a natural land filled with beauty and charm. The Land provided just that. Now, add in Jenni's skills/vision and you have a day that just could not be passed up. I put my birthday on the back burner quickly so I could be part of this memorable day.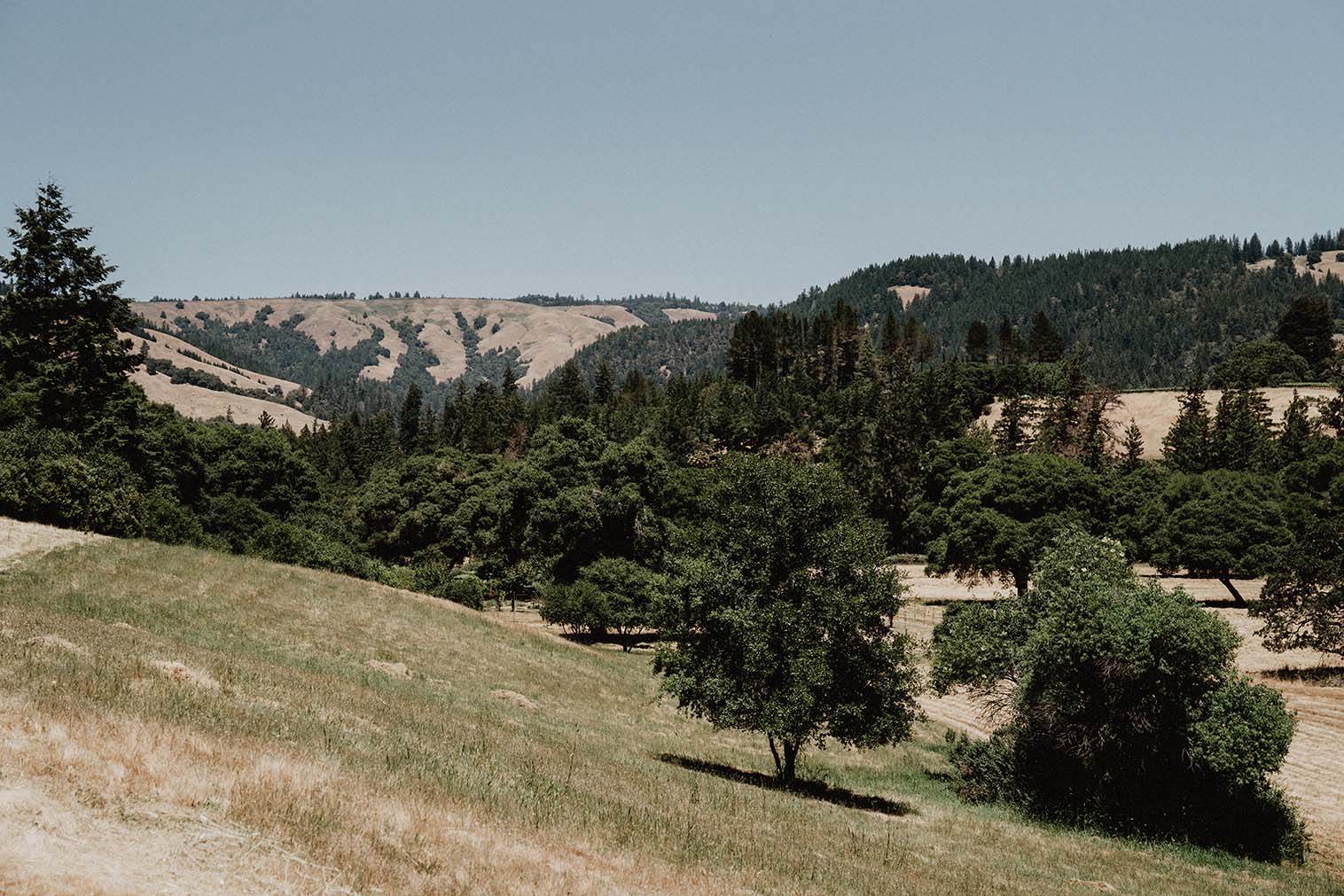 How was working at this venue? Any standout features we should know about? 
Working at this venue is a dream space for adventure photogs and like-minded people. The Land has so many gorgeous areas: the tent area, open plains, redwood forrest, swimming pool, super cute cottages and bungalows, and some wild life. I personally loved the tents and the open fields. The fields gave such a wonderful sense of freedom and it was refreshing and soothing.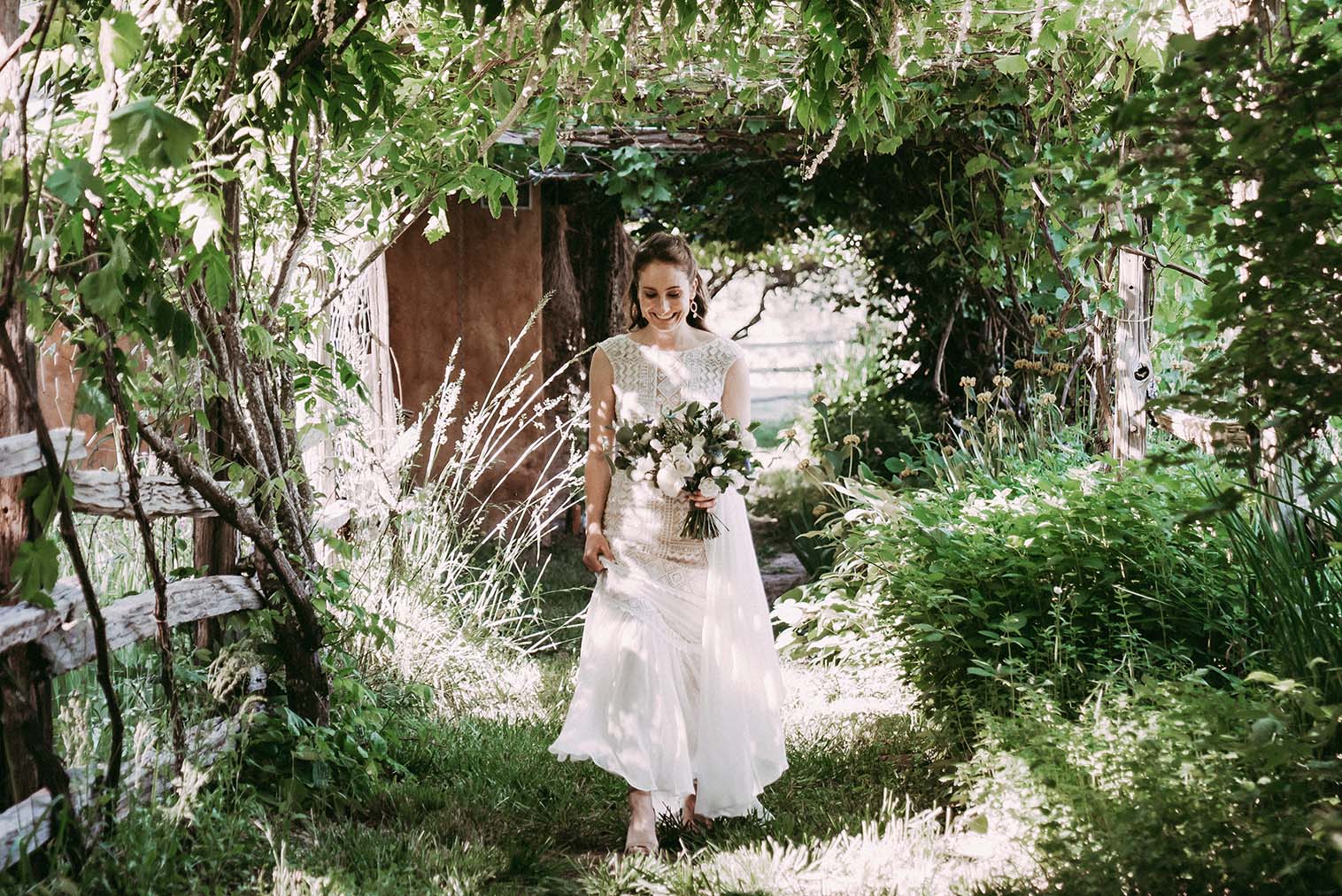 What was the overall feel for this wedding weekend? 
The design had an organic al-fresco feel. This wedding was more of a 3 day festival to unite two family's as one: family style dinner coming straight from an open flame grill and gorgeous, subtle greenery on the natural wooden tables which gave a beautiful contrast. The ceremony site was under vintage oak trees facing a garden. Peacock chairs, loungers, a kick-ass band – you name it, we had it.






What did the menu look like? 
The menu was family style and food was fresh and all organic. This was actually one of the main highlights for the couple. Family style trays were passed around. Lamb chops, chicken, beef and fresh vegetables were grilled over an open flame and it was incredible. There was also healthy portions of lentils, pilaf, corn and herbed couscous. Needless to say, there was plenty and everyone indulged. 






Did the couple incorporate anything special into the day? 
Katie and Brian love the literary arts so the ceremony consisted of stories of their times together in a poetic fashion. It was beautiful and unique. It was such a special way to share their vows to one another and the guests really enjoyed the treat.






What is your top tip for couples looking to have their wedding at The Land? 
Consult with Jenni Grubba Events. Seriously though, She's got it down for that venue. I cannot imagine the challenges she went through because the space is huge. Jenni designed everything: tablescapes, signage, graphic design, invitations, furniture vignettes etc. Oh, also, we pair up as an awesome team so maybe shoot me a "hello" as well haha. Ok, shameless plug aside, I would say try to rent the space for a whole weekend and have your VIP's stay there with you. The Land is really meant to be a space where people can relax and explore nature hikes in the Mendocino mountains. It may also be a good idea to have your photographer with you the entire time to really document all the festivities, this way when you look back at the images decades from now, you can truly relive the moments and be filled with joy.






Learn more and inquire about booking your wedding at The Land →
Credits
Venue & Catering: The Land | Photography: Love Tribe Weddings | Planning + Design: Jenni Grubba Events | Floral: @emmaewood | Band: Lucky Devils Band | Rentals: Archive Rentals and AM Party Rentals | Bar Staffing: Night & Day Productions | Dress: Limor Rosen